Our Termite Control Process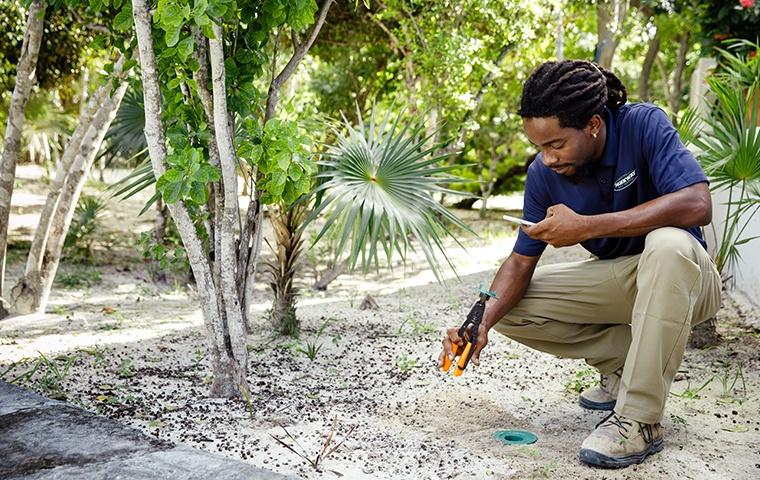 Termite Inspection
When you contact Parkway Pest Solutions about termite control, we'll begin by conducting a free inspection. One of our certified service technicians will inspect all visible areas of your structure, as well as any outbuildings located on the property. They'll look for signs of termite activity in any area where wood is present, using flashlights and ladders in hard to see and hard to reach areas.
Termite Treatment
During your initial service visit, we will install the Sentricon® System with Always Active™ bait stations around the exterior perimeter of your home or business. We place above-ground bait stations in the locations where our technician found any shelter tubes during your inspection.
Follow-Up Service
During a follow-up treatment, a certified Sentricon® technician will return and check and maintain bait stations.
Pre-Construction Termite Treatment
The best offense against termites in Turks and Caicos is a good defense. That's why it's important to pretreat properties to ensure that termites don't become a problem on your property in the future. There is a lot of new construction on the island, and termite pretreatments help deter unwanted termite activity. Prior to the pouring of your foundation, we treat the soil with a termiticide to create an impenetrable barrier or protection between termites and the foundation of your structure. If you're in the process of building a home or business or are planning a construction project in the future, contact us today to discuss our termite pretreatment options.
The Safe Way To Treat Turks & Caicos Termites

Termites are damaging pests that every home or business owner must deal with immediately, but many pest control companies use treatments that can be harmful to your family and the environment. Parkway Pest Solutions is the only company on Turks and Caicos that is certified to use Sentricon® with Always Active™, the #1 brand in environmentally friendly termite protection. Schedule your free termite inspection and get started with your home termite service when you contact Parkway Pest Solutions today!
Request Your Free Inspection Today
Complete the form below to schedule your no obligation inspection.