Antimicrobial Surface Sanitization Services
As the COVID-19 novel coronavirus continues to spread across the globe, many businesses and homeowners throughout the Caribbean are looking for help protecting themselves and lowering their risk for infestation. Social distancing guidelines have helped limit the spread of the virus by keeping people at home except in the case of essential workers—but what happens if your home or business itself becomes infected?
Parkway's Disinfecting Programs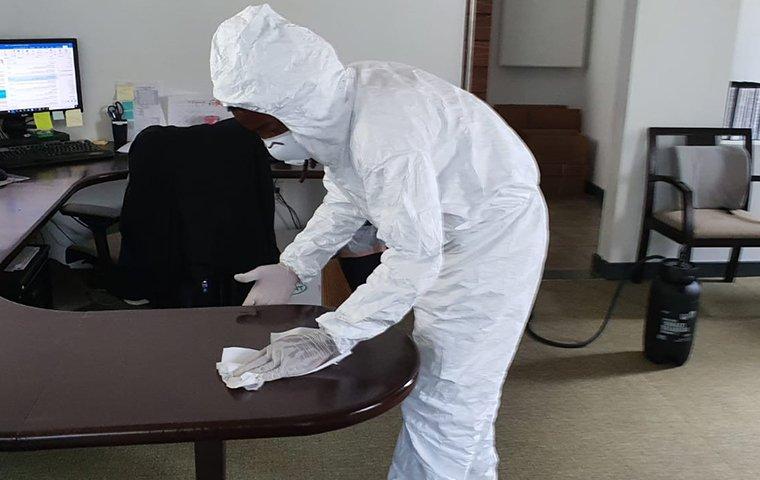 In order to help keep our communities protected, the team at Parkway Pest Services is proud to provide Turks & Caicos home, business, and property owners with our specialized Antimicrobial Surface Sanitization Services.
As pest control providers in the Turks and Caicos area, our technicians are accustomed to protecting themselves against potentially harmful pathogens as part of their day-to-day, and that experience puts us in a unique position to provide the same level of protection to the communities we serve.
Pest control companies are considered an essential business in protecting our communities, and we believe we need to continue to make ourselves essential by refocusing our efforts toward helping mitigate the threat of COVID-19.
Our team has undergone extensive training in the wake of the pandemic, and we're confident in our ability to provide safe and effective antimicrobial disinfectant services to homes and businesses alike. We are well-prepared and thoroughly equipped to help create a safer environment for our customers, no matter their circumstances.
When you sign on for sanitization services through Parkway Pest Solutions, our specially-trained team will visit your home or business and apply an antimicrobial product to any surfaces present, eliminating any viruses or bacteria in the process. Our technicians will mist and apply this antimicrobial product to any non-porous hard surfaces found within the structure following all PPE requirements as well as any special requests. Disinfecting programs from Parkway Pest Services are designed to help both homes and commercial properties, including the many villas, resorts, and rental properties present on Turks and Caicos.
Protect Your Home Or Business From COVID-19 Pathogens
If you're a Turks and Caicos resident looking to minimize your risk of contracting COVID-19 as well as other harmful pathogens in your home or business, contact us today for more information about how Antimicrobial Surface Sanitization from Parkway Pest Services can help! We also offer home pest control as well as commercial pest control, ask us how we can keep your home clean and pest free!


Get Started With
Parkway Pest Solutions Today
(649) 332-2847
Reach out for superior pest
control for the Turks & Caicos islands!

Contact Us
Request Your Free Inspection Today
Complete the form below to schedule your no obligation inspection.