Are Bed Bugs Biting In Your Turks & Caicos Home?
Bed bugs are a growing problem worldwide, and in a place like Turks and Caicos where people are always traveling, bed bugs are an even bigger threat. If you suspect a bed bug infestation in your home, it must be professionally handled as quickly as possible to prevent it from growing out of control. Parkway Pest Solutions can help keep bed bugs out of your Turks & Caicos area home!
Our Bed Bug Control Process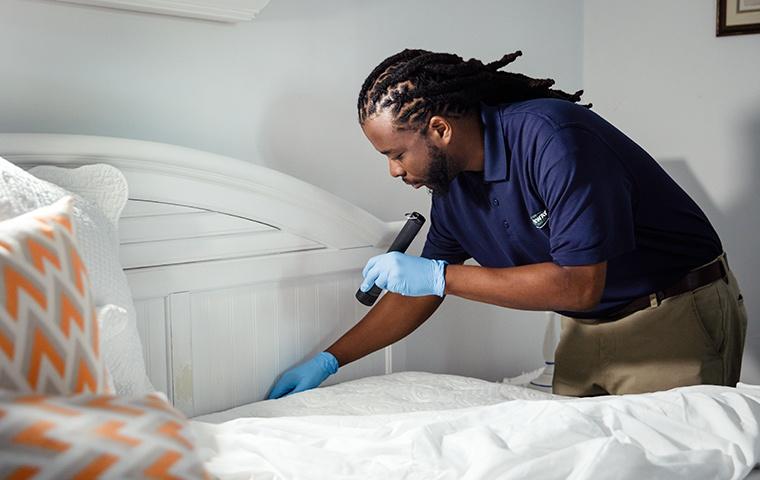 Determining if bed bugs are present in your home can be more difficult than you'd think. Bed bugs can often be mistook for other insects and, since they spend most of their time hiding, it's not always apparent that they're present.
Bed Bug Inspection
A free inspection from Parkway Pest Solutions will put your questions to rest. One of our certified service technicians will perform a thorough examination of your home. We'll check mattresses, box springs, headboards, and rails on all beds. We'll also inspect nightstands, baseboards, carpets, and crevices.
Bed Bug Treatment
During your first whole-house treatment, we will apply a product to headboards, rails, baseboards, cracks and crevices, curtains, and carpets. We'll use a vacuum to capture live bed bugs, and we may also use traps and monitoring stations.
Follow-Up Service
Your first follow-up visit occurs seven to ten days after your initial treatment. During this visit, the technicians will inspect your home for any signs of bed bug activity. If they find any, they'll apply another treatment. A second follow-up visit will occur in seven to ten days to check again for any signs of bed bug activity.
Guaranteed Bed Bug Control That Works!
Parkway Pest Solutions stands behind our bed bug control and, depending on your particular situation, your bed bug control service may comes with a 30-60 day warranty. Schedule your bed bug control services or learn more about our home pest control options when you reach out to the experts here at Parkway Pest Solutions!
Request Your Free Inspection Today
Complete the form below to schedule your no obligation inspection.